Core Technology Concept - Efficiency

"True Efficiency" has always been True Organic™'s main research objective: crop needs to be kept healthy and with minimal stress in order to yield quality produce. This requirement was largely ignored, due to the necessity to produce large quantities so as to compete in today's markets. In its comprehensive research, True Organic™ concluded that the growing of crops efficiently using natural methods will produce a much higher output in comparison with any other method available in the world market today.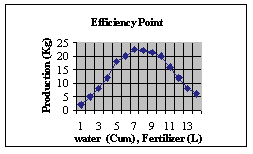 The efficiency point; the highest point on the graph on the top right, this point mean the highest production with feeding of the right water and organic fertilizer quantity. Any different quantities of water and organic fertilizer, if it is more or less will cause reduce of the production. The right quantities of organic fertilizer and water give the best balance for the plants; give higher quality better taste.